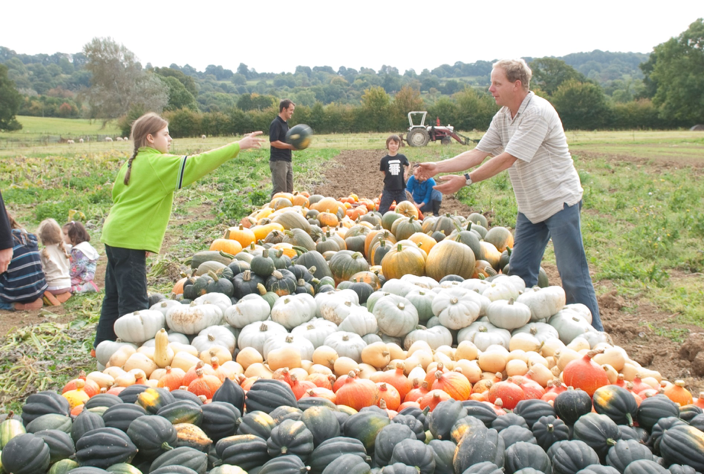 From the grower's perspective
"I am Mark Harrison, Grower at Stroud Community Agriculture.  We have been part of the Open Food Network since October 2015.  Most of our veg goes out in member shares but we sell a lot of our surplus through Open Food Network.  We have chosen not to have our own online shopfront – we leave that to Stroudco Food Hub which has been set up on Open Food Network to sell produce from 80+ local producers. 
"We tell Stroudco what we have available each week; their 700+ shoppers order online; then Open Food Network sends us a purchase order every Thursday confirming what we need to harvest for that Saturday.  We deliver the whole order together to the Stroudco hub and Stroudco pays us on delivery, sorts the orders into boxes for the shoppers and arranges home delivery of the food orders.  Open Food Network has provided us with a very useful additional income for relatively little extra work. 
"Other CSA projects who don't have a local food hub are using Open Food Network to manage their members, set up regular veg shares, sell surpluses on an ad hoc basis and deal with payments and other admin".
"Open Food Network has provided us with a very useful additional income for relatively little extra work.."
From the Hub's perspective
Stroudco Food Hub uses the Open Food Network to manage an inventory from over 80 producers, many located within 15 miles of Stroud. The hub ties in with the local farmers' market, allowing eaters to pre-purchase from farmers' market stallholders along with additional producers.
The hub receives orders through their Open Food Network shop, which manages the orders to farmers. All produce is collected and then collated at the hub on a Saturday morning. Eaters can then either pick up orders or have them home delivered.
The hub has embedded their Open Food Network shop within their own website, so shoppers can see all of the other information and news from the hub all in one place.
Open Food Network minimises the logistics of managing hundreds of products from a large number of producers, allowing the hub to get on with the important work of creating a fair regional economy for Stroud. 
Nous accompagnons vos projets
 Vous avez une idée, un projet, une question ? Vous souhaitez utiliser notre plateforme ?
Create a listing, shop or group directory on the Open Food Network. Tell me more!