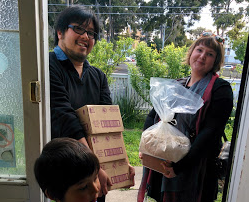 Westies Buying Group is an informal, not for profit community group using collective purchasing to buy bulk dry goods at wholesale prices. The buying group makes organic products affordable for members, in an area of Melbourne where there are few organic retailers. The group also has a strong emphasis on reducing food packaging as members are required to supply reusable containers to pack their orders into.
The buying group identifies the following core values:
Making organic food affordable
Reducing food packaging
Supporting and promoting sustainable farmers and their produce
Reducing food waste
Skills sharing and produce sharing on the facebook community
Westies was started in 2013 by a group of 8-9 families who got together to order food in bulk so they could enjoy better prices for the products they loved. The group had a preference for organic food but found that at retail prices it was outside their budget. Initially the Westie's product range was quite limited, including basics like eggs and milk. After some time it was suggested that the group should grow their membership so they could order a broader variety of goods in wholesale quantities. As more people got on board, the admin tasks of processing orders and procuring the stock became significantly more work, so they group started to charge a 15% admin fee to members, which is paid to Kemmy, a member who takes responsibility for administering the group.
Ordering and distribution
Today, ordering takes place once each month. Members have a window of time to place their order in Westie's online shopfront, which is hosted on the Open Food Network. Members who have placed orders are asked to drop off their containers at Kemmy's house ready for packing. When the order cycle closes, Kemmy sorts, weighs and packs the orders in her dining room. Then, when orders have been packed, Kemmy will put a post on Facebook telling members that they can collect their orders. Collection is from Kemmy's house, where she leaves the orders on the porch. So far there has been no food stolen. Some members have organised secondary pick up points with other members who live close to each other, taking it in turns to collect the orders from Kemmy's house. The whole packing and collection process usually takes about a week after the ordering deadline. Payment is then expected within 2 weeks, via bank transfer.
How the Open Food Network platform helps
Initially the group used Google spreadsheets to administer the orders. Each member could login and mark off the items they wished to order, however it was a confusing process as they needed to navigate multiple sheets containing each supplier's product range. There was always a risk that someone would accidently change formulas within the sheet, or alter the prices, so Kemmy had to maintain multiple copies of the spreadsheets, which was time consuming and difficult to administer.
Using the OFN for ordering and the buying group's administration has been a great improvement from their original spreadsheet based system. Members find it easier to order through the shopfront, and it removes the need to explain a complex system to new members. Kemmy's favourite tools on the OFN are the reports. She uses the Order Cycle Totals reports to figure out what quantities of each product to order from suppliers. She also uses the packing report to guide her packing process, and the payment report to see which customers have outstanding invoices to pay. Finally the bulk order management tool comes in handy when she needs to edit orders.
Nous accompagnons vos projets
 Vous avez une idée, un projet, une question ? Vous souhaitez utiliser notre plateforme ?